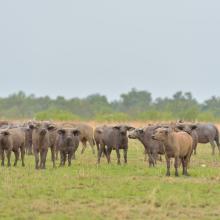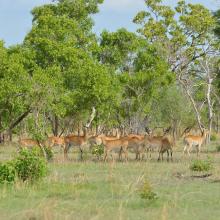 Overview
The Site is located on Burkina Faso's eastern border with Benin, adjacent to Benin's Pendjari National Park to the south and Burkina Faso's Singou Reserve to the west. It is part of the most important wilderness of Burkina Faso and covers a wide variety of habitats, ranging from the gallery forests of the Arly and Pendjari rivers to savannah woodland and the sandstone hills of the Gobnangou chain. Its seasonal rivers and flood plains host the largest concentration of wildlife in the country. Parc National d'Arly is home to elephant, lion, buffalo, warthog (Phacochoerus africanus), and various antelope species. The seasonal pools which are dotted around the plains are frequented by a wide variety of birds, including great herons, storks and ducks. Along the Pendjari river, Borassus palm trees break the plains and form groves that provide a habitat for birds such as speckled pigeon (Columba guinea). The hills, rocks and lateritic cuirass land formations provide important habitat for cheetah and raptors. The hills also add to the landscape values of the Site.
Transboundary designation:
The "Complexe transfrontalier W-Arly-Pendjari" transboundary Ramsar Site was declared in 2018 and includes the following Sites: Benin: Site Ramsar du Complexe W and Zone Humide de la Rivière Pendjari; Burkina Faso: Parc National d'Arly and Parc National du W; Niger: Parc national du W and Zone humide du moyen Niger.
Downloads