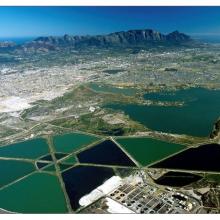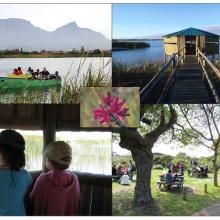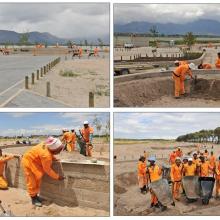 Overview
The False Bay Nature Reserve is a unique area on the Cape Flats, situated between False Bay and Table Bay, consisting of about 50% permanent wetland and 49% terrestrial vegetation including the critically endangered Cape Flats Sand Fynbos and Cape Flats Dune Strandveld and some sand beaches. The False Bay Nature Reserve contains two lakes, of which Rondevlei is a protected area reserve while Zeekoevlei is a residential area and a popular yachting, canoeing and wind-surfing venue. Both lakes support large populations of waterbirds including pelicans and flamingoes.
Serving as a reservoir of biodiversity, the Site supports important populations of mammals including the hippopotamus (Hippopotamus amphibius), cape clawless otter (Aonyx capensis), water mongoose (Atilax paludinosus), cape grysbok (Raphicerus melanotis), steenbok (Raphicerus campestris), southern African vlei rat (Otomys irroratus), large spotted genet (Genetta tigrina) and small grey mongoose (Galerella pulverulenta). About 256 species of indigenous plants grow on the Site including two endemic plant species currently listed as extinct in the wild, namely Erica turgida and Erica verticillata (Cape Flats erica).
The False Bay Nature Reserve is home to over 60% of the bird species in the South-western Cape (228 species) with notable examples including the little stint (Calidris minuta), ruff (Philomachus pugnax), pied avocet (Recurvirostra avosetta), common tern (Sterna hirundo), greater flamingo (Phoenicopterus roseus), and the great white pelican (Pelecanus onocrotalus).
In addition to being an important conservation area containing endemic vegetation types and species, the False Bay Nature Reserve offer various recreational services, including fishing, water sports and picnics.
Administrative region:
Western Cape province of South Africa
National legal designation:

National Environmental Management: Protected Areas Act, Act 57 of 2003
Local Authority Nature Reserves
Downloads
Ramsar Information Sheet (RIS)
Site map