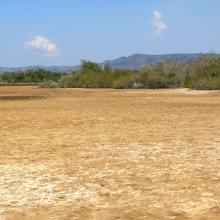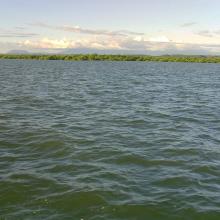 Zones Humides de Sahamalaza
Overview
The Sahamalaza wetlands consist of a number of coastal and marine areas in the estuaries of the Maetsamalaza, Berondra and Manambaro rivers, which separate the peninsula of Sahamalaza and the coast of Maromandia. They include forests which host around 220 plant species, coral reefs covering approximately 12,800 hectares, and mangroves which cover about 10,000 hectares and feature eight mangrove species. More than 40 species of endemic birds have been recorded. Globally threatened water birds include the critically endangered Madagascar fish eagle (Haliaeetus vociferoides) and the endangered Malagasy sacred ibis (Threskiornis bernieri), Humblot's heron (Ardea humbloti) and the Malagasy pond heron (Ardeola idae). The coral reefs provide very diverse sub-habitats, including shallow reefs, seagrass beds and reef slopes within Ramanetaka Bay, and the deep reefs of the outer bank, all dissected by channels. The mangroves provide important ecosystem services for local communities in protecting the coast and enabling the regeneration of fish stocks. Reforestation activities and steps to ensure the secure land ownership of local communities have helped to protect the Site against unplanned development. All parts of the Site have cultural attractions including spiritual sites, royal tombs and talismans.
Administrative region:
A cheval entre la Région SOFIA et Region de DIANA, ainsi que les Districts d'Analalava et d'Ambanja.
Global international designation:

National legal designation:

Parc National - Sahamalaza et Iles Radama
Zones clés pour la biodiversité - Parc national marin Sahamalaza-Iles Radama
Downloads