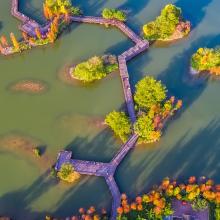 Guangdong Guangzhou Haizhu Wetlands
Overview
The Site lies in the lower reaches of the Pearl River, surrounded by its channels, in the central urban area of Guangzhou. The river deltas of the Site were extensively modified during the Song Dynasty (960 CE – 1279 CE) for agroforestry, fisheries and mitigating floods, and today form an important part of the region's cultural heritage. The Site features wetland agroforest composed of trench-based orchards, as well as some lakes and river sections, which together provide diverse habitat for numerous migratory birds and other threatened species such as Chinese stripe-nicked turtle (Mauremys sinensis), yellow-breasted bunting (Emberiza aureola) and Chinese agarwood (Aquilaria sinensis). 64 species of fish are found, which depend on specific habitat features and ecological conditions provided by the Site. For example, Chinese noodle fish (Salanx chinensis) is a river-sea migratory fish and is usually found in the coastal areas with a relatively saline environment. 14 of the fish species are endemic to the country, two are endemic to the Pearl River, while others are indigenous. In 2018, the Government of Guangzhou implemented the Guangzhou Wetland Conservation Regulations, which provided the wetlands with a permanent conservation status.
Administrative region:
Haizhu wetland is in southern China, Haizhu District, Guangzhou City, Guangdong Province.
National legal designation:

National Wetland Park - Guangdong Guangzhou Haizhu National Wetland Park
Downloads